On the heels of the resounding success of last year´s edition, IMASTE is organizing the second annual Spanish virtual trade and consumer show for tourism in the North American continent taking place from March 12th through December 31st, 2012, with lots of new features.
Conexion Spain Virtual, organized by IMASTE, the leading company in Europe for virtual events and trade shows will be the meeting point between consumers and professionals in the North American travel industry and all providers from Spain selling in this market, ranging from hotels to museums to city and regional CVBS, DMCs and other tourism suppliers!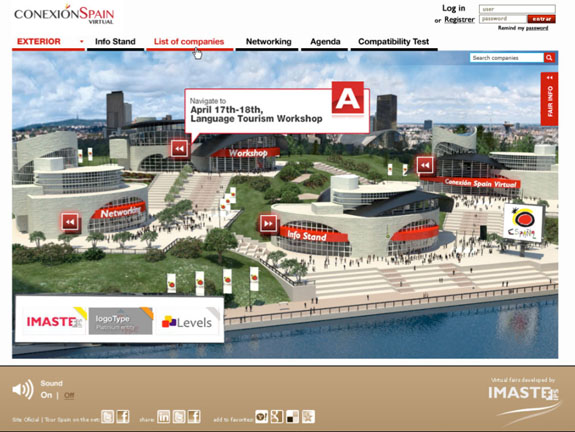 This new edition of the Virtual Trade Show has lots of new features such as one-to-one meetings and agendas, networking area and several theme workshops which will take place during the year.
Operating 24/7, this virtual trade show is an ideal opportunity for consumers and tourism professionals to "meet with" the entire sector, minimizing costs, optimizing investments and reaching more potential travelers around the world through the Internet.
Together with the opportunity of visiting the Virtual Booths, attending webinars and chatting with representatives of the exhibiting companies, this year the visitors will be able to exchange visit cards and conduct professional networking with each other.
Both exhibitors and visitors are able to interact and present their products and services without the complications related to international travel. Since there is no distance online, users will be able to visit a booth and do business regardless of geographic location.
Conexion Spain Virtual is the trade show of the future, a place where companies and travelers will meet, and institutions from the Costa del Sol, Barcelona, Valencia, Madrid, and Paradores as well as other hotels, will be showcasing the Spanish flavor to the North American travel market.
USEFUL LINKS
– Visit the demo video of the new version of the fair.
– Download the home of the fair in pdf from here
– Visit the archived version of 2011 edition.