Frankfurt, Germany is an international business city that is popular with large international trade fairs as well as smaller meetings and events.
Frankfurt, Germany, is an international business city with a population of more than 667,000. Frankfurt is known for its position in the international banking industry and serves as a hub to other areas within Germany and Central Europe. Frankfurt is also host to 60,000 conferences and meetings each year, making Frankfurt an important destination in the business meetings and events industry – especially major conferences and large trade fairs.
Frankfurt is visited by more than 3.5 million people each year, and half of those visitors are international. Top markets outside of Germany include the U.S., Great Britain, Japan and Spain. It's an interesting that about half of the people who visit the city for meetings are from international destinations. There are more than 100 large scale events are held in Frankfurt annually, making Frankfurt a definite stop for business travelers and meetings.
With more than 100 large scale events held annually in Frankfurt, many visitors frequently find themselves attending trade fairs at Messe Frankfurt, where more than 40 congresses and events are held each year in 11 halls. And those who are in the events industry know that Frankfurt, Germany, is host to IMEX each year (also held at Messe Frankfurt).
Hotels in Frankfurt, Germany
Frankfurt am Main – the central business district – and about 25% visit the city for congresses and conferences. Frankfurt has more than 210 hotels with more than 32,700 hotel beds. Three business hotels located in Frankfurt include:
The Westin Grand Frankfurt
Hilton Frankfurt
Radisson Blu Hotel Frankfurt
Activities in Frankfurt, Germany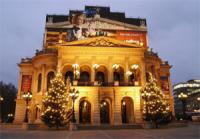 Alte Oper Concert Hall in Frankfurt, Germany, is also a popular venue for unique conferences, meetings and special events. Photo courtesy of German National Tourist Board / Mayer.
Frankfurt offers about 50 museums, more than 50 art galleries, more than 60 theatres is recognized for its skyscrapers which have become synonymous with its banking sector. Business events – or even business travelers looking to pass a couple hours – will want to spend time at Römerberg Square with its famous Römer City Hall and the Cathedral. The Museum Embankment includes 16 museums that were renovated or built between 1980 and 1990 on the Sachsenhausen stretch. Here, you will find the Städel Art Institute and Municipal Gallery, which are located by Römerberg with the old Römer City Hall and the Cathedral.
Frankfurt's museums along "museum embankment" have a variety of exhibitions. There is culture for every age, from pop music events to classical opera to modern theatre performances.
And one of the more unique venues for meetings and events is the Alte Oper Concert Hall, a prestigious late 19th century building that is an integral part of the Frankfurt cultural scene. Alte Oper includes a "Great Hall" that is one of the most famous in Europe, and the smaller Mozart Hall which is used for a wide range of performances. Both are available and used for medium and larger meetings. Alte Oper is popular for hosting congresses – with everything needed from technology to meeting spaces to dining. Tours are also available for those who just want to stop by.
Additional Information About Frankfurt, Germany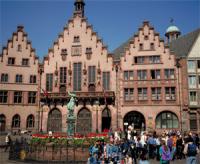 Frankfurt, Germany's Römer City Hall is located museum embankment area where many meetings and special events are held. Of course, Römerberg is one of Frankfurt's most popular areas for tourists. Photo courtesy of German National Tourist Board / Mayer.
Roughly 54 million passengers travel through Frankfurt's international airports each year, and about 350,000 pass through Frankfurt's main train station each day. Frankfurt has approximately 2,300 restaurants and bars for dining options.
For those who want to enjoy a little time shopping in Frankfurt, two more popular areas exist. Zeil is a pedestrian street with internationally recognized stores and brands, and at one end there's an outdoor market. Goethestrasse is an exclusive shopping street with stores such as Gucci, Chanel, Cartier, Louis Vuitton, Giorgio Armani, Pfuller Children's Clothing (great to bring gifts back for the family) and others. Running parallel to Goethestrasse is Kalbacherstrasse, offering much more casual cafes, affordable restaurants and tourist shops. And shopping streets can be found in districts throughout Frankfurt.
Updated. Initially published August 14, 2010.