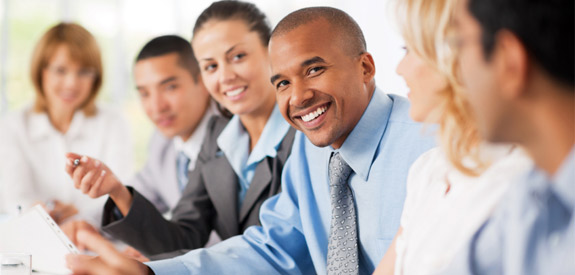 If you're searching for a career that requires the ability to juggle the logistics of dozens of conferences and major events throughout the year, then the meetings industry may be for you. But you'll need to look past the glamour of what you consider to be the guest's experience. You're there to work the event, not attend it. And your work will often have begun months if not years before the event itself; and if you're doing your job correctly, your work will continue long after the event, including evaluations and using that experience as the basis for the next program.
What is a meeting planner or event planner? A meeting planner is the person who brings together every person involved in producing a meeting, incentive, convention or special event. He or she is someone who understands the intent of the event, or its business rationale. It requires working with a full range of individuals within the hosting organization, as well as the external resources needed such as venues, transportation companies, caterers, rental companies, florists and others.
The meeting planner or event planner must keep track of all logistics, troubleshoot problem situations, and keep everyone involved informed about their roles and responsibilities. To be honest, it's a much larger task than those who think this is a matter of simple party planning or coordinating a set of invitations.
Meeting and Convention Planners
Those who want to work in meetings and special events are categorized as meeting and convention planners, according to the U.S. Department of Labor. They bring people together for a common purpose, and ensure that the objective is achieved seamlessly.
A meeting planner coordinates every detail from speakers and meeting location to arranging for printed materials and audio-visual equipment. Meeting and convention planners work for nonprofit organizations, professional and similar associations, hotels, corporations, and government. Some organizations have internal meeting planning staffs, and others hire independent meeting and convention planning firms to organize their events.
This work can create long days and non-traditional hours for meeting planners. An 8 a.m. morning seminar, for example, often requires setup the night before or early that morning. Meeting and event planners typically arrive at least 90 minutes before an event so that they may ensure the logistics for that morning are completely ready before speakers arrive, and definitely before the guests arrive.
It often involves participating or establishing an environment for a walk through of presentations the day before, sometimes as much as a week before. And that doesn't even consider the time needed to meet with the convention staff to review the event resume (program) – try to find times when your contacts may not already be busy handling other client events and programs.
Meeting Planner Jobs
Meeting planners organize events in a variety of meeting formats including seminars, conferences, trade shows, executive retreats, incentive programs, golf events, conventions, and other programs.
Meeting planners must be familiar with the standards, concepts, practices and procedures in the events industry and profession. Salary.com indicates that it typically requires at least 2-4 years of experience in the field, and they will rely on this experience to make good decisions. Meeting planners work under the general supervision of a meetings manager (who typically have 5-7 years or more of experience). Meeting planners tend have a bachelor's degree or an associates degree.
Meeting planners typically earn a median salary of 55,500 (with a range of US$40,600 – US$73,400), according to Salary.com (as of January 2012).
What does it take to be a successful meeting planner on the job?
Meeting planners must have the following skills:
Verbal and written communications
Organization and time management
Project management and multi-tasking
Self-starter and team player
Understand Microsoft Office applications
Detail and deadline-oriented
Calm and personable under pressure
Negotiation
Budget management
Staff management
Marketing and public relations
Interpersonal skills with all levels of management
Meeting planners must develop the following knowledge:
Venue selection
Catering
Production
Entertainment
Gifts
Transportation
Lodging
Conference Services
It's worth noting that most meeting planners come from a variety of backgrounds. Employers tend to prefer those who have a bachelor's degree in hospitality management, business administration, marketing, public relations, or communications. However, many successful planners begin in other professions or enter through administrative roles that include meeting planning responsibilities.
If you're looking for an edge on your competition for the few but coveted meeting planning jobs, then it's important to be active and visible in the profession. That means joining organizations such as MPI, SITE, ISES, ADME or PCMA, among others. By being active in the profession, you'll have the insights of other colleagues and increase your chances of being visible with others who may ultimately hire you on their staff or as their outside consultant. You should also consider obtaining a professional certification such as CMP, CMM, CSEP, CPCE or DMCP, among others.