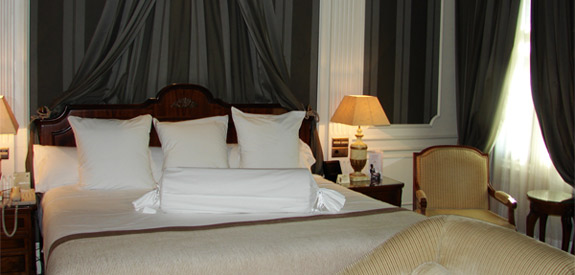 When considering how to find a hotel, most people tend to immediately focus their attention on searching the Web to find the best price. While this may help business travelers and others to find the best rate, it usually fails to consider the important purpose of having a good travel experience.
This isn't to say that travelers will have a bad travel experience if they rely exclusively on the best price, but it is important to keep in mind that if you're investing your limited time to travel, it should also include a great travel experience.
Finding a good hotel is an important part of the overall travel experience. So it shouldn't be surprising that travelers will indicate they had a good travel experience if they felt they had a good hotel experience. This, accoridng to survey findings of the 2009 global travel survey by Synovate, a global market research firm with offices on all seven continents. Unfortunately, that survey also found that many travelers will accept the first hotel they feel is "okay."
This international travel survey measured opinions of 6,300 people across Brazil, Canada, France, Indonesia, Japan, The Netherlands, UAE and USA. The survey found that one in ten travelers will only book "green" hotels, 58% like trying new hotels each time they travel (and this hasn't likely changed since then), and half of all Americans believe toiletries may be lifted as "part of the experience." (download the survey results, released April 16, 2009)
Sheri Lambert, Synovate's United States-based senior vice president for travel and leisure research, said the company undertook the survey to explore how people find and select the hotels they stay in, and how important certain hotel features are to them.
"Ask any regular traveler and you can almost guarantee they will have a hotel-from-hell story and (hopefully) a hotel-from-heaven counterpart. Whether people are traveling for pleasure or business, the place where they park their head at night can make or break the experience."
How Do Travelers Find a Hotel?
Regardless of destination, travelers have a wide choice of hotels today, so it's interesting that roughly a half do a little research, find a few comparable choices and select the most suitable one.
This highlights the importance of online travel tools in the selection process today. While some may argue that this is an obvious argument for gaining quick visibility on the Internet, online booking tools have basically streamlined this process for more.
However, profiles and opinions on many of these web 2.0 sites don't always properly tell the story of hotels, their guest rooms, amenities, and overall experience. To be sure, traveler opinions are extremely important, and those sites have definitely made a positive impact on the travel experience. Nevertheless, it seems that we may be embarking on a time when highly qualified opinions will be needed to guide the choices that travelers make when finding a hotel in a particular destination. (BusinessTravelDestinations.com will continue to focus future resources in this direction.)
About 30 percent of hotel guests used the Internet to search opinions about hotels globally just a couple years ago, so it's likely this number has grown slightly since then. Word-of-mouth is the second most popular choice, with 20%, or one in five people, who ask colleagues, friends or relatives about hotels. This approach was especially popular in the two South East Asian markets surveyed (42% of people in Indonesia and 35% in Malaysia use this more than any other research technique).
Other interesting facts to help you find a hotel, according to the Synovate survey:
13% of Americans read travel magazines to choose hotels, more than anyone else
24% of people in Hong Kong and 17% in the UAE check with their travel agent (still very personal)
10% in the UAE read individual travellers' blogs for insight
Brochures and flyers seem more important in Indonesia than elsewhere – 17% of Indonesians refer to them to choose their hotel
Traveler Expectations After Finding a Hotel
Once a traveler selects a hotel, he or she expects the hotel to deliver an experience. And whether someone is traveling for leisure or business travel purposes, they will typically bring their work with them in both cases. This means that in-room technology is very important.
An overall 47% of people agree that a hotel must cater to their technology needs before they book it, including 50% of men and 44% of women. The highest agrees were found in Brazil (68%) and Malaysia (64%).
"We are finding that it is now no longer an added feature to have wireless internet in hotels, but rather it is expected. Travelers, whether for business or leisure, need to be connected. Wi-fi internet access is becoming a requirement for many guests, as they have fully adopted the freedom Wi-fi provides in their own homes," Lambert explains.
In addition to technology, travelers indicate the following expectations from hotels:
9% expect a hotel enviromental (green) policy
26% expect the bath amenities to belong to the guest
39% expect a spa in the hotel
27% say the best hotels can be found in Europe
19% say the best hotels can be found in Asia
Interestingly, more than half of all respondents chose the pragmatic-yet-caring approach, agreeing that 'a hotel's environmental policy is important, but that may not have been part of the initial research. This was most prevalent among Japanese (70%) and French (63%) respondents.
Lambert said the supply of toiletries has evolved from no-name items to a not-to-be-missed branding opportunity for both the hotel and the beauty product brand, often linking into spa products.
And this may be great news to hoteliers: 90% say they will tell others about a good experience, sharing the 'inside scoop' with their friends and family. There was almost universal agreement with this from France (97%), Canada (96%), Brazil (96%) and the US (95%). Thierry Pailleux, Synovate's Managing Director for France notes that the French are outspoken about their experiences, good or bad.