Whether it's for business travel or a personal leisure trip, most people know that the best deals for air fare and hotels are frequently found through an online travel booking agent. We all know this. In fact, roughly 15 to 20% of airline revenues are now booked through online travel booking, according to TravelWeekly.com.
So what helps make one online travel booking system more appealing than another?
Extensive airline and hotel choices.
Favorable pricing options.
Easy to use online booking system.
Exclusive last minute deals.
Secure transactions/profile.
However, many travelers may not know that regardless of the booking engine, most online travel agencies pull inventory and pricing from one or more of four global distribution systems for travel that serve the thousands of different online travel websites – even our recommended online travel booking agent (Rovia). That's why value-added services, such as price comparison tools, airline accident insurance, concierge access, travel alerts and more are important differentiators.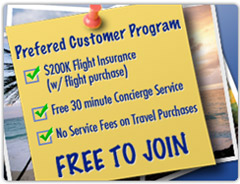 These are services that are definitely worth the effort and differentiate a booking agent. In our opinion, it may take a few moments to setup an initial user profile and understand the online travel search process, but the payoff for online travel booking is worth the effort.
It's worth noting that specialized travel booking sites tend to only show you a limited number of options, so travelers are only seeing a limited number of options. Travelers should choose to rely on a travel booking agent that shows the entire network of options so that you can see more than 95,000 hotels worldwide.

Learn more about our online travel booking agent for you.
Originally Published June 7, 2010