If you are planning a meeting or event in Spain, or have an interest in doing so in the future, this is an exclusive event you won't want to miss! Join the Tourist Office of Spain in Chicago for an unprecedented ensemble of local and regional tourist boards in Spain, DMCs, hoteliers and Specialized Experience providers under one (online) roof.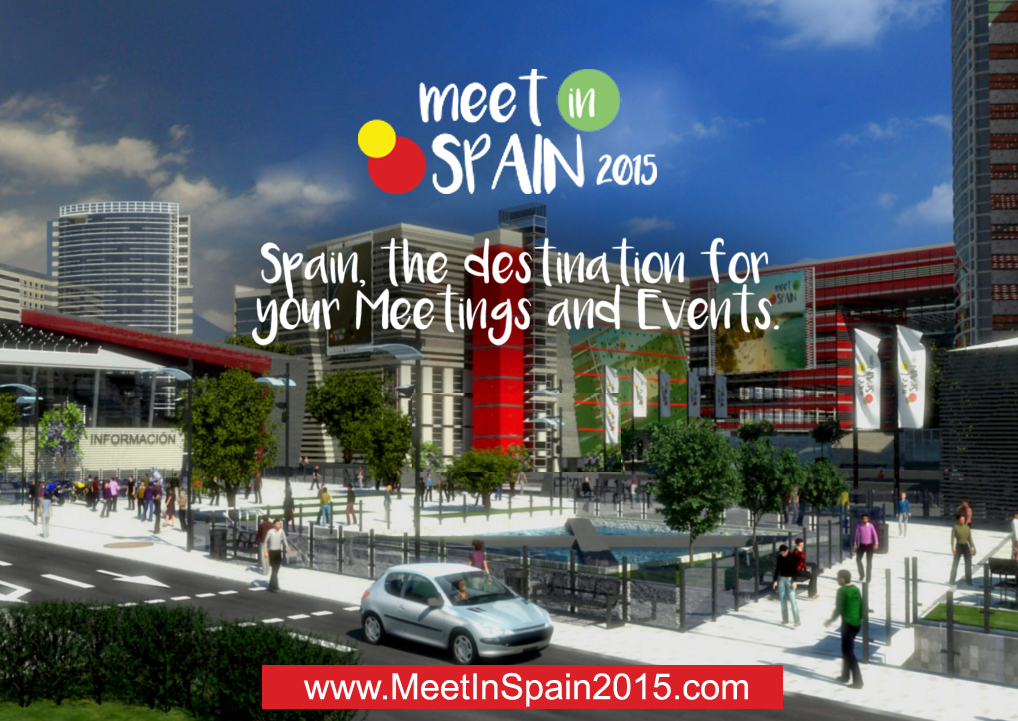 Reach diverse corners of mainland Spain and the Islands in one virtual trip. Make the most of your morning with pre-scheduled meetings over the course of three days. A virtual meeting negates the need to travel and gives everyone the opportunity to attend from their desks.
Register now at www.meetinspain2015.com. The show will be open Tuesday, December 1, through Thursday, December 3, from 9 a.m. to 12:00 p.m. CT.
Who Will You Meet?
We are a Spanish urban hotel chain established in 1999 and have hotels in main Spanish cities as well as Andorra and Berlin. Planning a congress or a convention in Abba Hotels is very simple if you leave it in our hands. Our rooms are prepared to deliver the optimum environment to make your meeting, event or banquet a complete success.
Hotel Alhambra Palace (Granada)
In the one hundred years it has provided elegant hotel accommodation in Granada, Hotel Alhambra Palace has played host to a wide variety of luminaries. Everyone from Spanish royalty to Hollywood screen sirens to prominent politicians to music legends has graced our hotel. All our hotel meeting rooms retain original decor of 1910, arabesque tiles and plasterwork, including oil lamps of the time. Except the Hall Theatre, with excellent acoustics and on top of a cistern, the remaining meeting rooms offer natural light and incredible views over the city of Granada.
Albacete Turístico (Castilla-La Mancha; site in Spanish only)
The largest city in Castilla-La Mancha is situated on a vast, flat stretch of farmland of great natural value. This peculiar orography gave the region its old Arab name: Al-Basit (the Plain). A journey through the region will allow you to perceive the intense commercial activity along its main arteries and the peace and quiet of its corners, so typical of La Mancha, awakened by the bustle that September brings, with its holidays and festivities that make this month the ideal time of year for a visit. Brightness and isolation from external noise are the defining notes of the congress hall's architectural identity. Perfect for conferences and shows, also for presentations, press conferences and lectures. In a building measuring 15,000 square meters, three standard rooms, auditorium of 120-1120 people with 15 permanent stands in the largest, and a multipurpose room of 800 square meters.
Alcalá De Henares (Madrid; site in Spanish only)
Alcala de Henares, a member of the Spain Convention Bureau and Alliance of the Congress of Heritage Cities of Spain, is a city that has all the necessary infrastructure to hold a congress or convention. Its proximity to Madrid and good connections make Alcalá a dynamic, attractive, safe and youthful option when choosing a destination to hold a conference or meeting.
Algeciras (Cadiz; site in Spanish only)
The promotion of the city, its charms and its values in all forums where necessary, is the main objective of the Tourist Board of the City of Algeciras, that works in coordination with the hotel industry to make available to those who visit us the best option for tourists.
Alicante Convention Bureau (Valencian Community)
The business world is a key sector for the Alicante Convention Bureau. To this end, it foments links with managers of companies at home and abroad to attract company meetings, product presentations, promotional events, training courses and incentive trips to our city. It makes it possible for their events to be held at the city's many outstanding venues, offering businesses unbeatable connections and the services of our experienced suppliers.
Almería (Andalusia Region)
Almeria city is the capital of one of the most emerging provinces in the touristic and economic environment in the south of Spain. This is a quiet city of almost 200,000 inhabitants, whose skyline is related to The Mediterranean Sea. Almeria has an amazing weather and excellent quality facilities and services. This fact, together with its Cultural, monumental, leisure, cinema offer make this city unique in the Spanish coast. The Palacio de Exposiciones y Congresos Cabo de Gata- Ciudad de Almeria offers 9 functional rooms distributed throughout its 8 thousand square metres with capacity to 5 thousand people, a safe bet to make your event a big success.
A cultural crossroads for thousands of years of history has given rise to an open and welcoming Aragon. Its vast artistic, cultural and intellectual heritage is its greatest legacy.
Barceló Group (Various)
The Barceló Group, created in Palma de Mallorca (Spain) almost 85 years ago, is one of the leading tourism companies in the Spanish market and one of the most important in the world. We offer you a wide range of hotels situated in relevant points of interest and especially designed for business trips.