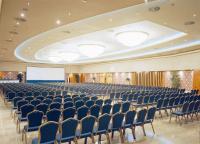 Building a conference budget is a challenge for event and meeting planners because they are usually flooded with special offers by hotels, convention centers and conference services vendors to attract their business. But do not confuse this with being a good thing.
Projecting a conference budget is further challenged by other pricing factors, such as the time of year, how much lead time is provided, what business already exists on a venue's books, what is the size of the group vs. available space, how much catering expense the event may need, what are technical or A/V needs, and the list of questions continues. It's nearly impossible to easily predict a delegate or attendee rate until multiple discussions and inquiries have occurred.
Through emails, direct mailers, phone calls, deals at trade shows and other means, venues have been trying to lure meeting business by extending sales and discounts and even offers of waiving fees for various services. Is this the best solution?
It's a common practice for European hotels to offer conference and meeting packages for those event planners who hold seminars, conferences and other meetings. The concept offers a flat rate for a combination of services, including meeting room space, food and beverage and audio-visual needs into a meeting package for a flat daily rate on a per attendee basis. This really helps planners to more easily predict their conference budgets.
However, U.S. hotels typically build conference budgets line item by line item, based on the detailed needs of each meeting or event. It frequently creates complicated banquet event orders and requires event planners to pay attention to the overall budget as various aspects of the conference is planned.
Of course, European meeting planners will sometimes customize their conference packages to meet the specific needs of their event. And many European hotels and others elsewhere also tend to offer a variety of specials and incentives to attract international business travel and business events.
How Meeting Packages Work in Europe
Daily packaged rates are popular in the United Kingdom, and have worked their way to continental Europe. "The UK market was the first to ask for this type of package, and we always try to adapt our proposals to meet our client needs," explains Regina Herrero, general manager of Fira Palace in Barcelona, a four star business hotel that is popular among planners who organize international meetings.
About 20% of Fira Palace's clients are from Spain; the rest come from the UK (19%), the U.S. (17%), France (7%), Italy (6%), Japan (4%) and Germany (4%). And half of the business events hosted there come from the pharmaceutical industry, and the remainder includes technology, food and beverage, banking and auto industry clients. This, according to 2008 data.
The daily meeting package at Fira Palace includes the use of the meeting room, coffee break(s), lunch, screen, etc. – basically, everything that a planner would need to include in his or her meeting.
Requests for conference and meeting packages have evolved over time, according to Herrero. Initially, planners requested flat conference pricing for meeting rooms and food and beverage. In time, these requests expanded to include other items, such as screens, Internet access, flip charts and sound systems.
For those who require overnight guest rooms, they also requested a special/negotiated rate for accommodations into their conference budget rates. And planners will try to negotiate their needs for other event requirements, such as exhibition area, gala dinners, cocktail receptions and other event needs.
Herrero suggests that this approach may be helpful to planners for several reasons, including the perception of cost savings, predictability of costs, ease for presenting to the planner's internal clients. She says there it can be motivated by any number of reasons.
However, it definitely places an increased burden on the hotel to predict its clients' needs while managing to its own bottom line. "From our point of view it's much easier to do "à la carte" events. In fact, the operation is much more complicated. But the benefit for us is the customer satisfaction."
Conference Packags Now Offered in U.S. at Wynn Resorts, Las Vegas
While the European market is relatively mature with the acceptance of conference or meeting packages, perhaps more U.S. hotels may begin to consider changing the way they package and price conferences and meetings. This is especially important now when event planners are being required to make meeting decisions under short deadlines – more and more frequently just a matter of weeks out.
In May 2009, Wynn Las Vegas introduced three types of conference and meeting package rates for the smaller meetings market – those with fewer than 80 attendees:
Full Day Conference Delegate Package
"AM" Half Day Conference Delegate Package
"PM" Half Day Conference Delegate Package
Just as European planners have come to expect, Wynn's packaged options are priced on a per delegate (i.e., attendee) rate, including the meeting room, food and beverage, snacks for breaks, LCD projector and screen.
The idea for Wynn to develop its conference package options grew out of the European market approach. André Link, Wynn's national sales manager previously came from Europe. "For the most part in Europe this is the only way we sold meetings… It was very rare that we prepared A La Carte proposals that listed F&B costs, room rentals, AV charges etc.," Link explains.
Wynn Resorts anticipates that the packaged conference rates will be more popular with its corporate clients because most association meetings are larger in size. Conference packages also help meeting planners to make sure they do not miss any important elements of their program.
Of course, catering is probably one of the more important elements of any conference package, and Wynn has already anticipated this. To help manage costs while offering flexibility, Wynn's lunch menu, for example, reflects seven different lunch buffets for the various days of the week, and two buffet options that are available at any time, says Matthew Howard, Director of Catering.
"Dietary confines are typically accommodated at no additional charge, provided they are communicated and available prior to the event. Kosher meal requests would be subject to additional fees," Howard adds.
To be sure, meeting and conference package rates will not meet the needs of every event. In fact, most planners recognize that they will forego some sort of preference for their program or require them to customize the package to include additional elements. And there's a caution about relying on package rates if planners anticipate that their programs may run longer than initially anticipated, triggering additional fees.
But for those meeting and event planners who are looking closely at their budget, the idea of meeting and conference packages will offer clear predictability for the conference budget.
May Not Be Reproduced; Published on About.com