About 7 million people visit London as part of their business travel itinerary each year. And with more than 1,000 venues and one third of the Fortune Global 500 with European headquarters in London, it's not surprising that London is perhaps the most popular international business travel destination.
Even though London is known for being a cultural city – from the theatre district in the West End to some of the world's best museums – it also offers its sports side. London is host for the 2012 Olympic and Paralympic Games, and London has 13 professional football teams.
For meetings and event planning, London offers more than 1300 hotels and 100,000 hotel rooms in the metro area. Convention space is available at Earl's Court and ExCel London. Private transportation for business travel is available from Green Tomato Cars, an environmentally friendly fleet, and Tri Star Transportation, an executive sedan car service with international partners in other countries. Of course, London's public transport, the Tube, is one of the fastest ways for getting around London.
London Business Hotels
Central London seems to be the most popular area for those who travel to London for business meetings and events; however, many business travelers who go to London may easily stay at the airport. The Sofitel at Terminal 5 at London Hethrow (the international terminal for BA flight) has new, state of the art facilities for meetings and events for as many as 1,700 attendees (max), making it a viable alternative to city center hotels and convention facilities. Three business travel hotels in central London include:
Intercontinental London Park Lane
Sheraton Park Tower
The Royal Horseguards
Other popular business travel hotels in London include Athenaeum Hotel & Apartments, Claridge's Hotel, Jumeirah Carlton Tower, Sofitel at Terminal 5 (Hethrow), The Chesterfield Mayfair Hotel, The Ritz London, The Rubens at the Palace.
London Business Activities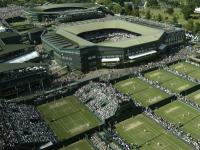 Pictured: Although Wimbledon is most famous for hosting The Championships for tennis each year in London, The All England Lawn Tennis Club — including Wimbledon Museum — are available for private and group events throughout the year. Wimbledon will be used for the Tennis competition of the 2012 Games. Up to 30,000 people will be able to watch the players compete. Courtesy of VisitLondon.com.
London is full of unique venues and entertainment options for hosting meetings and special events. London offers historic venues, such as the Tower of London, Shakespeare's Globe and Kensington Palace. For those wishing to make their meeting truly unique and special for guests, the Royal Opera House offers several different creative options for hosting meetings, private dinners and special events – and the best access to options will be during non-performance days. Of course, many of London's theatres are also available for group entertainment. Those who enjoy gaming may also wish to check out the options available at Empire Casino. Three London sporting venues for business travel include Wimbledon Stadium, Lord's Cricket Ground and Stamford Bridge (Home of the Chelsea Football Club). Of course, a trip around the London Eye is also a spectacular and popular special event. Vinopolis offers a unique wine tasting experience – perfect for group and corporate events – in the heart of the city. And if you're looking to add an element of gaming to your itinerary, check out The Casino at The Empire in the heart of Leicester Square.
London Business Dining
There are more than 4,000 pubs and 6,000 restaurants in London – 43 of them Michelin-starred, offering cuisines from virtually every corner of the world. So for those who are just casually searching for a place to enjoy a meal, try one of the pubs for a truly British experience (I enjoyed The Only Running Footman in Mayfair). Some popular experiences include afternoon tea at Fortnum & Mason's St. James's restaurant, breakfast at The Orangery at Kensington Palace (great for private receptions), and the chef's table or private dining at Gordon Ramsay at Claridge's. A couple of other choices for private group dining include The Swan (upstairs) at The Globe Theatre and Skylon at the Royal Festival Hall.
London Business Information
London offers an amazing mix of shopping, dining, museums, historical, river activities and green spaces. Some of the most popular business travel areas include Mayfair, Oxford, Victoria/Westminster, Covent Garden, Bloomsbury, Soho and Knightsbridge. In time for the 2012 Games, the Tate Modern – a popular venue for meetings and events – is expected to expand conference facilities at the same time. London also continues to experience urban regeneration with improvements scheduled for its public transportation during the next 10 years and 12,000 new hotel rooms by 2012.
by Rob Hard, October 6, 2009