Culture and Business in Central Europe
Business travel in Berlin, Germany included 14,500 business events in 2008 with about 2.5 million participants. This reflected a continued growth trend for Berlin during a difficult economic year for all destinations, and a total of 104,600 events with about 8.15 million participants were held in the German capital. This, according to data from the Berlin Convention Office.
What does this mean for the international business travel industry? Well, 80% of all events are domestic, so this indicates that Berlin is poised gain the attention of international business conventions, events and travelers.
Business Travel Video: Berlin
According to data from Amt für Statistik Berlin-Brandenburg, a travel and tourism consulting firm, Berlin has begun to catch the attention of business travelers from the following markets outside of Germany:
United Kingdom (5.15%)
USA (3.80%)
Spain (3.20%)
France (2.20%)
While the German capital certainly offers a full range of hotels, convention facilities, event venues, green spaces, shopping and dining options, there's also an energy and spirit among Berliners themselves. Entirely new neighborhoods have been created, existing neighborhoods are constantly revitalized. And the people of a unified Berlin work together today to heal the wounds of the past in an atmosphere of respect and a vibrant spirit that wants to welcome the world.
Berlin's business hotels are central to the majority of business meetings and events in Berlin. It's interesting to note that Berlin's 164 business and convention hotels hosted more than 80% of all events held Berlin during the first half of 2009. And Berlin also has six convention centers and halls where 2,500 events and 850,000 participants were hosted in 2008.
The majority of business events in Berlin are scheduled for one day, but about 31% events held in Berlin are muli-day in length. The majority of business travelers arrive in Berlin for meetings (32%) or conventions (16%), events (13%) and seminars (11%).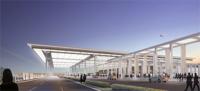 With its echoes of regional architecture, BBI will clearly find its place in the region near the German capital. The terminal with its divided facades and clear, geometric forms continues architectural elements ranging from the Prussian designer Karl Friedrich Schinkel to the Bauhaus style. The central access road, which will be an avenue lined with trees, picks up characteristic features from the townscapes and countryside of the Berlin/Brandenburg region.
Photo: © gmp Architekten, JSK International, Visualisierung: Björn Rolle/Berlin Airports
For business meetings and events, Berlin offers 175 museums, three opera houses, seven symphony orchestras and more than 130 theatres – there are 135 unusual venues for events.
By the end of 2011, Berlin is expected to consolidate its three airports, and Schoenefeld Airport will expand to become Berlin Brandenburg International. This will modernize and expand international routes to Berlin, preparing the German capital for future business travel – 22 million passengers are projected to pass through Berlin's airports in 2011 (a 10% growth over 2007 data).
The weather in Berlin does reflect the four seasons, as you would expect from continental mainland Europe; however, the summer season does not last long, but business travelers should be prepared to expect sunny and warm temperatures in July and August – along with the potential of rain.
German is the official language in Berlin, but most places visited by travelers will also have information available in English. About 3.4 million people live in Berlin as of December 2007.
2008 Berlin Statistics
Total Berlin Visitors: 5,061,264
Overseas travel volume: 675,412
Total Berlin Hotels (metro area): 652
Total Berlin Hotel Rooms (metro area): 97,230
Average Visitor's Trip (nights): 2.2
Total Visitors from Europe: 2,073,853
Berlin Visitors from United Kingdom: 310,054
Berlin Visitors from Spain: 190,623
Berlin Visitors from France: 134,216
Berlin Visitors from United States: 230,903
Berlin Visitors from Germany: 5,152,408
Source: Amt für Statistik Berlin-Brandenburg
Berlin DMCs
Berlin Preferred Agencies is an association of 18 firms in the meetings, incentives, conferences and exhibitions industry. Berlin Preferred Agencies is the official partner to the Berlin Convention Office, and its members provide destination management and professional conference services.
Berlin Top Activities
Museums
River cruises
Concerts
Guided bus tours
Shopping
Berlin Weather (average high/average low)
January: 35F / 26F
February: 38F / 28F
March: 46F / 32F
April: 55F / 39F
May: 65F / 46F
June: 71F / 52F
July: 73F / 55F
August: 73F / 54F
September: 65F / 48F
October: 55F / 42F
November: 44F / 35F
December: 37F / 30F
Source: Weather.com
The U.S. Department of State Bureau of European and Eurasian Affairs has published additional background information about Germany.
Originally Published November 9, 2009