Looking to diminish some of those fine lines and wrinkles – or to achieve a more even skin tone – on your face, neck and hands? Perhaps you have some age spots or scars that you would like to erase. If so, then microdermabrasion (also referred to as microderm) may be for you.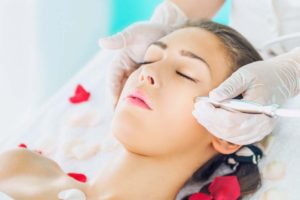 Microderm removes the top layer of dead skin so that newer, supple skin may take its place, and it's usually performed by an esthetician (who should be properly trained under the supervision of a qualified medical director) at a day spa or medical spa.
Mirodermabrasion typically takes a series of treatments to achieve results (appointments usually require less than an hour). But the investment of time should take your skin care regime to a new level that is beyond a classic facial.
The result? You should experience an improvement in circulation, a higher production of newer skin cells, and a healthy, vibrant glowing complexion. Microdermabrasion is also used as a treatment for acne and may be able to (after time) undo some of the damage done to the skin through frequent breakouts.
How Does Microdermabrasion Work?
Think exfoliation on steroids and vacuum pressure. As unappealing as this may sound, your microderm experience should be relaxing and pain-free.
The technician or medical professional will use a handheld device that has a wand attached. This device does double duty by exfoliating the dead skin cells, and vacuuming them up. Crystals are used for the exfoliation of the top most layer of the skin, while a gentle suction takes place to remove the dead surface cells; making way for newer ones to grow and thrive.
Many spas offer an alternative to the crystals with the use of a diamond tip instead. The results are the same, but there is usually less discomfort and noise. Regardless of which approach is used, both devices do a nice job.
What Can You Expect with Microderm?
Because microdermabrasion is considered more of a "procedure," expect to fill out paperwork, including a checklist that asks medical questions such as possible allergies, any recent illnesses, conditions and medications that you may be taking. When your paperwork is complete, expect to have a consultation with your skin care expert, whether it is the doctor or the esthetician. They will likely talk with you about your skin care goals and how they can help.
After the consultation, you will be taken to a spa room where your makeup is removed (if you're wearing any), and a spa bed is often provided for your comfort. In most spas they will have an atmosphere that plays relaxing music or nature sounds. However, keep in mind that the microderm machine itself may be a little noisy and the device that uses crystals may be a little louder. The skin care specialist will then use the wand to exfoliate and vacuum up the dead skin, usually in an upward motion. The machine has different settings, so the vacuum can be set to a power level that works for your comfort. Nevertheless, you may not mind the strength of the vacuum because your skin will benefit more from the harder suction.
After about 45 minutes, a calming mask is applied to ease some of the redness, and then it's promptly removed (5 to 10 minutes tops) with a warm towel, followed by the application of a thick  layer of sun screen. You may experience some redness even though a calming mask was applied; however, it should subside after about 24 hours if you follow the skin care experts instructions. During this time, be sure and avoid the sun. With the top layer of dead skin now removed, your skin is very susceptible to sun damage. Even a few minutes outside without sunscreen can harm your skin.
Microdermabrasion works best when it is done a series of usually four to six sessions, but if you have an important event coming up and want to look your best, microdermabrasion may do the trick even with one treatment. Spas have been offering microderm services for roughly 20 years. In general, microderm is reasonably priced, requires minimal downtime and has the potential for long-term effects.
My first microderm treatment was in 2008 using the diamond tip, and I've been hooked ever since.
Once the esthetician nailed the "just right" vacuum pressure I could tolerate, I was able to relax and enjoy the experience. The calming mask helped soothe my skin while the application of the hot towel made my face feel squeaky clean and  weightless. The esthetician was vigilant about the sun screen, not trusting me to apply it correctly to myself, and even gave me a spare bottle to apply a few hours later. Here's what you should know about microdermabrasion.
How to Choose a Microdermabrasion Spa Provider?
It's important to check the credentials of the person who will be performing the procedure. You should also ask questions about whether you have skin or other health issues that may prevent you from having a microdermabrasion service. Whenever you have questions or doubts, always consult your physician prior to having any medical spa service.
The American Society of Plastic Surgeons (ASPS) recommends that you choose a surgeon who you can trust. Their member surgeons meet rigorous standards:
Board certification by the American Board of Plastic Surgery® (ABPS) or in Canada by The Royal College of Physicians and Surgeons of Canada®
Complete at least six years of surgical training following medical school with a minimum of three years of plastic surgery residency training
Pass comprehensive oral and written exams
Graduate from an accredited medical school
 Complete continuing medical education, including patient safety, each year
Perform surgery in accredited, state-licensed, or Medicare-certified surgical facilities
Have you had Microdermbrasion? Share your story here!