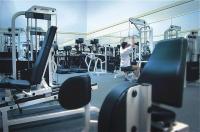 Every business traveler knows the importance of trying to incorporate healthy habits and follow fitness tips that will help maximize their productivity and overall fitness – despite the demanding schedules and long days that business travel requires, and despite the temptations to simply skip it.
Why is it important to seek fitness tips and travel exercise when on the road? Think about it, the expectations of business travel is frequently filled with many unhealthy habits: ground transfers to the airport in the early morning, sitting at airports and then the plane (perhaps more of this if it involves connections), and then more ground transfers for the business traveler until he or she arrives at a hotel, conference center or client's office.
The day is filled with meetings, maybe a presentation, attending sessions or a trade show. The trip may include more unhealthy options, such as convention center food, sweets and cocktails. The life of a business traveler begins early in the day and ends late in the evening. When is there time to consider fitness?
It only takes about 20 minutes every other day to maintain fitness while on the road, and it's relatively reasonable to try to find ways to incorporate a few minutes of healthy activities throughout the day.
Hotel health club courtesy of the Fairmont Washington, DC.