Barcelona's Modernist Architecture.
Day 1
Barcelona is a fascinating city, and the main purpose of my visit this time is to experience Palau de la Musica Catalana and to learn more about modernist architecture in this Mediterranean city.
RENFE (Spain's train system) completed its high-speed train line this year (2008) between Madrid and Barcelona, so we arrived in the early afternoon — in just three hours. What's nice about the route is that the train stations are located relatively near the city center in both locations, so it helps to eliminate the waiting time and transfers experienced at the airports.
After a short ride, we arrived at Hotel Fira Palace Barcelona. This is a four star hotel that offers some of the nicer amenities you'd see at hotels with higher ratings. The Fira Palace is primarily a business class hotel during the fall and winter months, and a leisure hotel during the summer. This hotel is located in the Montjuic area (near Plaza de España), and reasonably close to many cultural spots.
We had lunch in the hotel and the first stop on our itinerary was the Sagrada Familia. This year the Gaudi masterpiece and emblem of the city of Barcelona is celebrating its 125th anniversary. It's an amazing work in progress and visitors can be found all around the outside shooting photos of the church. We were lucky and invited to a private, insider's tour by the principal architect Mr. Jordi Bonet and adjunct head architect, Mr. Jordi Fauli.
It was an amazing hard hat tour that brought us all the way to the top of the church. Taking two construction elevators to see the top, Mr. Bonet was kind enough to help me through some of my issues with heights…
The architects and their team are doing an amazing job at continuing the vision that was first started by Gaudi. We learned that, just like in many cities, politics are impacting the work as the city is expanding its high speed train line below the foundation. We hope that all involved establish a wise decision that doesn't affect the church.
Next, we had dinner at Restaurante La Gavina, which is located along the sea and near the port. By the way, for those of you who are event planners, there's a nice indoor space for 60 and the outdoor café can hold more.
Day 2
Met Regina Herrero, general manager for the Fira Palace and learned that about 75% of the current business market that stays at the hotel and uses its meeting space is from the pharmaceutical industry. Most of its business travelers are from the UK and the U.S. who stay there. Peeked my head into a meeting room, and the space is very nice. Also learned that Fira Palace completed most of its lobby renovations, and will be updating guest rooms floor by floor as time allows so that it doesn't interfere with guest stays. I suspect she will be finished by the end of 2010. But I did see a room prototype, and the updates will be nice.
Today was devoted to learning about Barcelona and Modernity. We had a private tour by Mr Jordi Falgas, an expert in 20th century art and modernista architecture of Barcelona. He's currently director of the recently established Rafael Maso Foundation, devoted to modern and contemporary architecture, in the city of Girona (Spain).
We visited Museu National D'Art De Catalunya, the National Museum of Art of Catalonya. This is a fantastic museum with several collections, but we only had enough time to see the Romanesque and Modern Art collections. It's an amazing building that was built for the 1929 International Exhibition. And it's a fantastic venue for special events and receptions; its hilltop location offers spectacular city panoramas.
If you're dropped off at the bottom of the steps, here's a tip: there are escalators that take you all the way up, and if you don't see an escalator, walk to the right – there will be another set of escalators that can help on that final treck.
We then spent time at the Picasso Museum. This is located in the Gothic Quarter, and a top "must visit" for anyone spending time in Barcelona. They have the most extensive collection of Picasso's works, and it's still controlled by his family.
Now I understand why lunch starts so late in Spain, even though we started ours just before 2 p.m. (lunch usually doesn't begin until after 2 p.m. in Spain). Lunch today was at Restaurante L'Aria, and it was a great experience. It's clear that the wait staff is professionally trained. And, event planners, the executive chef has been with the hotel for more than 18 years. I think they have the freshest lemon sorbet I've ever tasted.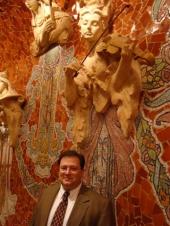 Tonight we had a private tour of Palau de la Musica Catalana. Inaugurated in 1908 this concert hall is a jewel of modernist architecture. And I was able to get a view of the room from the stage, trying to gain some inspiration from any of the muses on above me.
By the way, Palau de la Musica Catalana offers several unique opportunities for organizing indoor and outdoor events. After the tour, we enjoyed a concert by guitarist Manuel Barrueco, who featured works by Bach, Astor, Piazolla and Granados. This venue draws top-name artists, and it's celebrating its 100th anniversary this year (until February 2009), and so there is special programming almost every night.
Day 3
After a buffet breakfast at the hotel, our itinerary was to spend the morning walking the Eixample district. This area is famous for its modernist architecture on Passeig de Gracia: the Batllo House (Antoni Gaudi), Casa Amatller (Josef Puig I Cadafalch) and Casa Mila (Antoni Gaudi), among others. Unfortunately it was raining this morning, so we decided to learn more about the area within the comforts of a vehicle, and went to Parc Guell next.
The rain slowed down to a drizzle, so it was great to have a chance to see this park that was conceptualized to become a private community, but was never quite accepted by the people at the time. The city ended up buying the land and now maintains it as a public space. Here, you find amazing architecture that incorporates glass, ceramics and sandstone. It's located on top of the hill of el Carmel in the Gracia district, and has great views of Barcelona.
But this space hasn't escaped entrepreneurs of today: as soon as it started to rain, someone appears ready to sell as many umbrellas as needed. There are also some musicians and others selling goods. And the area fills up quickly with visitors and school children. Still, a definite must see on every tourist's itinerary (even if the skies are gray, as it was for me).
Afterward, we returned to L'Eixemple district to see inside Casa Battlo, which is a nice venue for events on the second floor and rooftop views of the city.
By mid-afternoon it was time for lunch, and today we went to Casa Leopoldo in the Reval District, which is near the Gothic Quarter. The area is a bit dicey, but this restaurant has been in the same family for four generations, and I am told a favorite or King Juan Carlos when he is in Barcelona.
This is a small restaurant and simple décor, but the food is excellent and the restaurant is quite popular among the local politicians. The private room here can probably hold 20-24 people comfortably. We were served family style, and they had beautiful slabs of Pan con Tomate!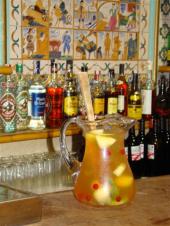 After lunch we walked to the Gothic Quarter and stopped into Els Quatre Gats (the Four Cats), a bar that was frequented by Picasso and other "bohemians" of his time. Although it's probably not something that Picasso had in his day, we ordered a pitcher of Cava Sangria, and took a lot of photos.
After walking around the area for a little longer, it was time to prepare for the next Spanish meal – this time at Hisop, which prepares contemporary Catalan cuisine (think "innovative, hip dining"), where we experienced a tasting menu. This is a small restaurant owned by two young chefs, and it holds perhaps 24-34 people. The food was great and inventive, as you'd expect in a gastronomic restaurant in Barcelona. Spain has some of the most professionally trained wait staff, and Susanna our server (also a sommelier) explained every detail.
Hisop has a very hip black-red décor that also matches the wait staff's outfits, the walls and the chairs. And the food is also part of the artwork of the room and the total dining experience. One idea that I'll have to take back with me is the spray bottle of gin that was used to give the gin dessert an extra kick to the outside. And their chocolate-lavender cake was the best.
We arrived at 9:00 p.m. and left around 12:45 a.m. Some of us wanted to be like the Catalans, and let the evening just begin, but the reality is that we depart tomorrow at 8 a.m., and there's still too much to do before check-out.
Originally Published in 2008.