Your next employer is likely to make eye contact with your resume before deciding whether to meet with you face-to-face. It needs to make a strong impression, convincing a prospective employer that he or she should invite you to the next phase of the hiring process.
Are there a range of styles and templates for creating a resume? Absolutely. But the templates themselves cannot craft your personal story. Your resume is a marketing tool, and that requires understanding how to highlight your best strengths and qualities.
While Event Jobs Board specializes in helping candidates in the hospitality industry – hotels, restaurants and events related positions – the same rules apply to most industries (and we can help you, too).
Despite the reduction in the national unemployment rate, the fact remains that on average there were about 7 million fewer private sector jobs in 2010 vs. levels in 2008. That trend is slowly turning around, and hiring a resume writing service will provide you with the right competitive edge to stand out among your peers when applying for the limited number of open jobs. Consider the following reasons to hire a resume writing service:
Employers are Spending Less on Recruitment Resources.
The truth is that there are fewer people working in staffing roles, and they are being asked to do more than ever. This isn't unique to recruiters, but it does mean that candidates need to gain an employer's attention in a matter of seconds. Translation: You need to increase your investment in promoting yourself for jobs because employers have been reducing how much they spend to source you.
Recruiters Review Resumes.
Of course, it sounds obvious that recruiters review resumes, but what's important to understand is what they look for when reviewing resumes. Do you bring relevant experience to the position? Do your qualifications meet expectations? What special skills do you offer? They're working to determine if you're a fit for the position, a close match for the position, or do not meet the requirements at all. In which pile do you want your resume?
Resumes Are Plagued with Mistakes.
Your resume really does serve as a marketing brochure when you're not in the room. And that's why you should make sure you present accurate information. The following is a list of the most common mistakes:
Gaps in employment.
Missing employment dates.
Insufficient job histories and accomplishments.
Poorly formatted resumes.
Resumes are too long (exceeding two pages).
No cover letter.
Grammar errors and typos.
Resumes Should Not Be Misleading.
The truth is that many employers are skeptical during the hiring process because industry studies show that information on many candidate resumes don't match the information they receive from past employers. This also extends into the information provided about education and other credentials to a lesser extent. Your resume writer will help you to better navigate some of these challenges so that you may highlight your qualifications more effectively and honestly.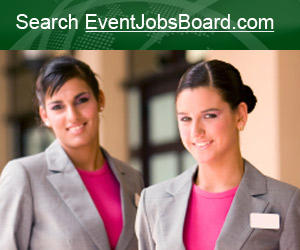 Recruiters Rely on Candidate Resume Databases.
Employers search candidates by selecting keywords that are relevant to available positions and industries. And, just as recruiters are skeptical of misleading resumes, they are also skeptical that some candidates are writing their resumes with keywords in a way that forces their resumes to appear inappropriately at the top of search results.
The technology has been improving to address this problem. But, remember, recruiters are searching to hire people… at the end of the day they want to find candidates with the best resumes who are the best fit for the job. Make no mistake, at the end of the day, recruiters value a well-crafted, traditional resume.
Concerned about cost? Consider this: The cost of having your resume prepared by one of our professional resume writers is less than what is earned in an average day on the job.
RH Communications, Inc., the publisher and marketing firm behind EventJobsBoard.com, offers highly experienced professional resume writers to help provide you with an advantage for jobs in hospitality, travel and events. Our team is led by a resume expert and career coach who has 25 years of experience. And our resume writers have an average of 10 years of experience working with clients. Contact Us! Or learn more about RHCI Resume Services at Event Jobs Board.