Regional Focus
View Hilton Hotels Resorts news from surrounding regions »
Property Highlight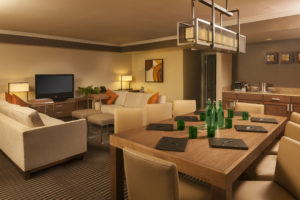 November 11, 2013
PHOENIX – Group travelers to Pointe Hilton Squaw Peak Resort in Phoenix are taking advantage of the resort's recent business suite refresh and technology upgrade – a 100 MG circuit that delivers the fastest Internet speed available across hotels and resorts in Phoenix.
A necessity for groups with high-bandwidth needs, the 100 MG circuit allows for simultaneous high-speed connectivity for up to 1,000 attendees at a time. Pointe Hilton
Squaw Peak Resort is one of only two hotels in Phoenix with this capability. "As more and more travelers carry multiple devices from laptops to iPads and smart phones, offering this type of technology will continue to ensure our clients have productive and inspiring meetings and events," said Staci Valentino, director of sales and marketing at Pointe Hilton Squaw Peak Resort.
The resort also recently completed phase one of a refresh to several of its 19 ambassador business suites, which provide additional space and furnishings for the corporate traveler and can accommodate small meetings for up to 10. The refresh brings new contemporary furnishings, carpeting, cabinetry and shutters, local artwork, lighting, vanity mirrors andmadded wallpaper and paint to 12 of the suites.
Pointe Hilton Squaw Peak Resort offers more than 48,000 square feet of indoor and outdoor meeting space, including 46 state-of-the-art conference rooms. Located in North Phoenix along the bustling Biltmore corridor, the resort spans 27 acres along the base of Squaw Peak and the Phoenix Mountains. The resort offers 563 all-suite accommodations, a fouracre water park complex, full-service spa and other resort amenities and services.
For more information, visit www.pointehiltonsquawpeak.com or call +1 800 947 9784.
About Pointe Hilton Squaw Peak Resort
Pointe Hilton Squaw Peak Resort is a Spanish-Mediterranean-designed, all-suite, resort located at the base of the Phoenix Mountains Preserve. Because Phoenix has the advantage of over 300 days of sunshine per year, guests are able to enjoy the Pointe Hilton Squaw Peaks Resort's acres of refreshing pools, known as the River Ranch, year round. The resort is rich with Phoenix history and known for its dramatic desert setting, dedicated staff and community involvement. With a family friendly atmosphere, acres of swimming pools, extensive conference space and a variety of restaurants, Pointe Hilton Resorts offer the perfect location for business or rest and relaxation. For additional information on Pointe Hilton Squaw Peak Resort, please visit www.pointehiltonsquawpeak.com or call +1 800 947 9784.
Contact
Tessa Bajema
Pointe Hilton Squaw Peak Resort
+ 602 870 2720
tessa.bajema@hilton.com