Lisbon Is a City Resort.
Arrival Day
It's my first visit to Lisbon, and I'm looking forward to discovering Lisbon because it is truly a city that reflects the Portuguese people – it hasn't become commercialized like so many other cities around the world. Lisbon is the capital of Portugal and is situated next to the Tagus river. The architecture is unique and full of color. I'm here to learn more about the range of options available to business travel and leisure getaways, making the Lisbon region a resort city.
I arrived at Lisbon Portela Airport (Lisbon's international airport) and transferred to my hotel using a taxi. When you're transferring into the downtown area of Lisbon you know you are getting close when you see the limestone sidewalks and cobblestone streets – which you can feel during the ride. This is part of what makes Lisbon unique, and it gives you an immediately sense of being away.
Today there was a race in the center of town where I am staying, the Renault Roadshow, so some of the streets were blocked off. But with Lisbon's famous winding streets, my driver was able to adjust and allow me to arrive quickly and easily.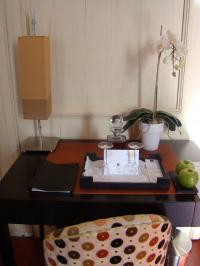 I am staying at Hotel Heritage Av Liberdade, a charming boutique hotel that offers an escape from many of the traditional business hotels. It's in a restored late 18th century building, and rooms are decorated to combine Lisbon's traditions and lifestyle with modern technology. Hotel Heritage is a small chain of boutique, luxury hotels in Lisbon. Hotel Heritage Av Liberdade is its latest addition, and a nice change from some of the more traditional hotels where I've stayed.
Unfortunately I'm sick on this trip, so I opted to save my energy for the three days of exploring business hotels, restaurants and venues for business and leisure travel. But it's late Saturday afternoon, the weather is nice for October, and I decided to take a walk through the neighborhood and hike around the city.
Because I've spent the last seven days eating tapas and Spanish meals, there's a part of me that's embarrassed to admit this, but I chose the Hard Rock for dinner, just down the street. Not a Portuguese meal, but a comfortable haven for business travelers and others who want to encounter the comforts of home. I understand that some hard core travelers and tourist types scoff at this idea, but other road warriors understand. At least I chose a Sagres, a Portuguese beer, to go with my meal. I have to admit, it's a good one.
Day 1: City Resorts and Culture
I have three full days to explore and understand business travel, city breaks and incentive options in Lisbon. Alexandra Baltazar of the Lisboa Convention Bureau kindly organized my introduction to her city which began by leaving downtown Lisbon. This may sound odd, but it's more circumstantial for the timing of my visit and that today is a Sunday. The Lisbon region resembles a triangle, and our focus was on the city resorts today.
The first stop was Sintra, a UNESCO World Heritage Site. This is a charming town, full of character and easily accessed by train from the city center (30 minutes). We stopped at Piriquita, a famous little coffee shop named after the lady who created the cafe. The Portuguese love their coffee, and it's strong here I have been told, but I'm a tea drinker, so I enjoyed that along with two pastries: Travesseiro (made of eggs, sugar and almonds) and Queijada (made of cheese, cinnamon, sugar and eggs). The shop was crowded, so we didn't stay long, allowing others to quickly take our table.
A walk through Sintra is like walking through a small resort town with older architecture, amazing buildings with some raw and in need of updating while others have bright colors. I enjoyed using this time to learn about the Portuguese tiles.
Some insights that I gained from Nazaré, who was my guide for the Lisbon visit: the tiles are Arabic influenced, the first tiles were green and white; older tiles were designed to resemble the Arabic carpets; 17th century tiles were yellow and blue and it's easy to notice them because they reflected scenes and sculptures; late 17th century and early 18th century was when the blue and white tiles became popular.
Tiles and ceramics are an important industry in Portugal, and these make great gifts. While in Sintra, I explored a few shops, and this is a great spot to find client and guest gifts for programs — suggestions include Portuguese hand painted tiles, ceramics, linens and more. By the way, there's a palace in Sintra that also has two rooms available for rent.
We left to visit Quinta da Regaleira nearby in Sintra, and this is a great venue for events and a must-see for any visitor's itinerary (personal guided visits require advance booking). Quinta da Regaleira's origins date back to 1697, and it's a fabulous palace and estate that offers winding paths of gardens, statues, mysterious grottoes and more. There are several outdoor spots on the property where organizations can host meetings, receptions and more. It's important, however, to keep in mind that this property requires a bit of walking and uphill climbing, but it's worth it.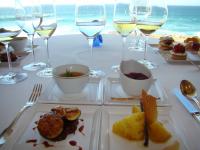 Lunch was at Fortalez do Guincho Restaurant, one of only a few Michelin rated restaurants in Portugal – and the food, wine and service exceeded every expectation. But just as important is the view of the Atlantic from this point. Fortalez do Guincho is where you will find the westernmost vantage point in continental Europe. It's easy to pass a couple of hours just watching the oceans waves crashing on the shore, and that's exactly what we did.
For the afternoon we visited five hotels in the Cascais/Estoril region – each offering a different atmosphere, but any of these would serve as an excellent business travel and events hotel: Penha Longa, Hotel Fortaleza do Guincho, Grande Real Villa Italia Hotel & Spa, Palacio Estoril Hotel & Golf, and Cascais Miragem Hotel. Estoril and Cascais should be viewed as a destination of its own. Located next to each other, this area is considered the Portuguese Riviera, and offers a range of activities options, fantastic hotels, a cosmopolitan atmosphere.
For nightlife activities, Estoril Casino is considered the largest in continental Europe. I wish we had time to go there – I was able to drive by, but I guess I'll just have to come back and spend time there in the future to share it with everyone. This is a region within Lisbon that obviously caters to the interests of the meetings and incentives industry.
The trip back to Lisbon was short, probably 25 minutes at the most. That's because we returned after the rush hour (watch out, the Portuguese love to drive, so any programs and visits timed during rush hour can take quite a long time).
It's now the end of the day. I'm tired, I have work to catch up on, and I just want room service. Unfortunately, my hotel only has a few snacks and sandwiches, but the gentleman at the front desk understood my situation. He sent a porter to pick up some food to go at his favorite nearby place – that's great service. It arrived 15 minutes later with my needed soda. I'm looking forward to more time in Lisbon tomorrow.
Day 2: City Center and Nations Park
Today was dedicated to exploring the city center, and we were able to cover a lot of ground. We began the day by taking the famous funicular (yellow trolly) to the top of the Bairro Alto quarter, where there's an incredible view of Lisbon: rooftops, famous sculptures, St. George Castle and the Tagus river were all in view from there.
Lisbon is comprised of seven hills, and it's easier to walk down these hills than up them… it's totally worth taking the funicular around Lisbon, especially the top of the hills. Bairro Alto is an eclectic area for artists. It's my understanding that this area really comes alive at night, but there are also some unique shops that can be found here during the day.
On our way, we walked down Rua Augusta in Chiado. This is a pedestrian street that is lined with shops, and probably the most visited shopping street in downtown Lisbon. I purchased a small painting of a Lisbon scene from a street vendor as a way of taking my own piece of Lisbon home with me. Actually, this is one of my best pillow gift suggestions for every destination, and your clients will love it.
St. George Castle which dates back to the sixth century when the area was under Roman control, and dedicated to St. George, the patron saint of England, in the 14th century. St. George Castle is a definite stop for every visitor to Lisbon, and also serves as a unique venue for special events. We ate lunch at Casa do Leao at the castle, which is probably one of the best restaurants in town – and also a great event venue.
About 25 minutes from downtown Lisbon is Nations Park, an area that was developed for the World Expo of '98. Nations Park includes four hotels (we visited Olissipo Orient Hotel today), and many venues that would interest leisure and business travelers, such as the Lisbon Oceanarium, Casino Lisboa, Fil Meeting Center and the Atlantic Pavillion. There's also a cable car that provides a panoramic view of Nations Park that shouldn't be missed.
Phew, it was a lot of visits. I have to say, though, that one of the best highlights of the day was the opportunity to travel between a couple of the stops by private car – a 1930s Ford. Mr. Genésio Laranjo, owner of Genésio Laranjo – Antique Cars, Classic Cars for all kinds of events, has a fleet of 40 antique cars, great for transferring up to 120 guests. This is definitely a special experience for events. I understand that Mr. Laranjo has also driven many famous people, and is a bit of a celebrity himself.
Day 3: City Meeting and Event Venues
Many people wouldn't be surprised to learn that I am a big fan of destination management companies. While some may argue that they may serve as an extra layer of expense, those decisions are only budget driven. A great DMC will handle high end programs for small groups and larger programs, always tending to the details that nobody expects, and making the experience feel exclusive to the client every time.
Prior to arriving in Lisbon, I narrowed my choices to one (I usually only spend time with one DMC in each destination) and this morning I had an opportunity to spend time with Eduarda Neves, managing director, and Luis Gama, sales manager, of the Portugal Travel Team. They've been in business since 1996, serving all of Portugal, and their expertise shows. I'm excited about keeping in touch with them.
Today I spent time in the Belém quarter, a site where the famous navigators of Portugal's Golden Age of Discoveries set sail to discover the world. It's perceived as a nearby suburb – 20 minutes from downtown Lisbon, and offers beautiful gardens, parks and monuments. It's also located on the Tagus. I had an opportunity to experience a hard hat tour of Altis Belem Hotel & Spa, and I can share with you that this will be an excellent 5 star hotel with an amazing view of the Tagus and cutting edge facilities.
Some of Belém's most popular attractions are the Jerónimos Monastery, the Monument to the Discoveries, the Torre de Belém, the Belém Cultural Centre and Rua Vieira Portuense. Located in Belem, Jeronomis Monastery is a great space, and has several options for group events. This is a great venue for personal itineraries as well.
After a visit to the Monastery, we walked along Rua de Belém to sample Lisbon's most famous custard pastry, Pastéis de Belém, a bakery and café which holds the same name (these also make a great guest arrival gift). The custards are known as pastéis de nata at other bakeries.
Another Belem highlight is the Coach Museum, located just down the street. This is a great spot to visit during the day, and an even better spot for hosting an evening reception. The Coach Museum has ceremonial and promenade vehicles from the 17th to the 19th century, mostly from the Crown's estate or private property of the Portuguese Royal House. And it contains rare and unique coaches from that time.
Belem is where Lisboa Congress Centre and Centro Cultural de Belém (also known as the Cultural Center of Belém, "CCB"). Lisboa Congress Centre offers three large halls and meeting rooms that are suitable to congresses and expositions, and the venue has all of the up-to-date A/V that meeting planners would expect. There's also a nice restaurant inside, Commenda, where we enjoyed lunch. CCB is Lisbon's cultural center, but it's also an ideal place to host all kind of business, scientific, commercial, cultural and social events.
Corinthia Hotel Lisbon was my last stop, and it's a five star hotel with the largest spa in town. I had to check myself to wonder if I was impressed with the hotel because of its spa: indoor water treatments, health club, chromo and aroma therapy, hydro float soft pack system, and more. After three long days of business visits, or if the hotel is the real deal – let me assure you, that spa and hotel is the real deal to attract business meetings. I only viewed the spa facilities, no time to use them, but I did relax for 10 minutes in the Executive Club lounge – complete with concierge service, private meeting rooms, food and beverages.
As my three days of site visits has come to an end, I'm struck by the number of different experiences are available in Lisbon. It's possible to create many different itineraries and programs in this region. And I experienced only minimal language barriers here, which was a pleasant surprise in comparison to some other European destinations. English is essentially a second language here, and the people of Lisbon are warm and welcoming – just wanting to make sure that you are completely comfortable. I'm returning.
Originally Published in 2008.