It seem the conventions industry turned a corner, according to data from ICCA, the International Congress and Convention Association. For the first time ever, more than 11,150 regularly occurring association events which rotate between at least three countries.
Which destinations made the top of ICCA's list? The following highlights the top 20 rankings for cities and countries: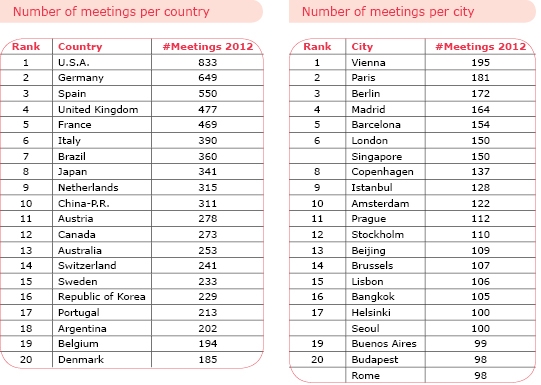 The top 10 countries showed little change in ranking vs 2011, with the top seven repeating their positions, led by the USA, Germany and Spain. United Kingdom, France, Italy, and Brazil are on places 4 through 7. After the aftermath of cancellations due to the earthquake and tsunami, Japan jumped back into the top 10 from 13th to 8th place. The Netherlands remained 9th and China-P.R. dropped from 8th to 10th place. Austria just falls out of the top 10 to 11th place.
In the city rankings, Vienna retained its number one status with 195 meetings in 2012, and Paris is second again. Berlin climbs one place to third. Spanish cities Madrid and Barcelona are respectively 4th and 5th and London and Singapore share 6th place. The biggest climber in the top ten was Copenhagen, taking eighth spot with 137 meetings, 39 more than last year. Istanbul and Amsterdam took ninth and 10th spot, displacing Beijing, which fell three places to 13th.
"Once more our members and researchers have identified that the international association sector has been growing strongly over the last year, as has been the case throughout the last few years of global economic uncertainty," says Martin Sirk, ICCA CEO in a statement.
"Why is this so? Firstly, almost all international associations have a statutory duty to meet on a regular basis, and their annual or biannual main congresses have become increasingly "mission critical" for their communities of members and stakeholders."
"Secondly, economic strength in certain regions of the world is stimulating growth in regionally rotating association meetings, particularly in Asia and Latin America, but we now also see this trend starting to emerge in regions such as Africa and Middle East."
"And thirdly, association congresses are to a large extent driven by scientific, healthcare and technological advances, and we are continuing to live in an era where the accelerated expansion of discovery and innovation is at an unprecedented level, creating entirely new associations and events to share insight into and develop new business from this new knowledge."
"All this augurs well for continuing growth in the future, and any destination or company that wishes to be a serious long-term player in the international meetings business should in ICCA's view make sure they are involved in the international association sector. In ICCA's 50th anniversary year, we are truly delighted to be reporting such tremendously positive figures."
As part of ICCA's 50 year anniversary a special 50 year edition of its international association meetings Statistics Report "A modern history of international association meetings" will be published in September 2013.
ICCA's International Association Meetings Tables are published annually. To be included, meetings must be held on a regular basis, have at least 50 delegates, and rotate between at least three countries.