Prices globally for business travel will increase only modestly, according to American Express Business Travel in its Global Business Travel Forecast 2013. This is good news, given that air fare and hotel costs generally account for the greatest share of travel expenses.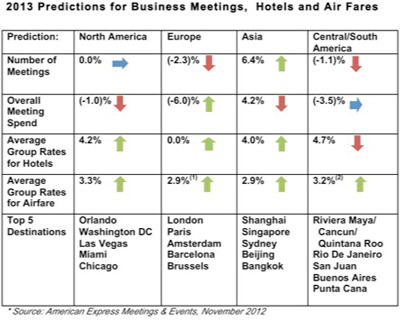 The forecast predicts increases in business travel pricing in select markets in Latin America, Asia, and Eastern Europe indicate that road warriors will likely continue to travel in these regions to pursue business opportunities in 2013. At the same time, global economic uncertainty – particularly due to the fiscal crisis in Europe and deceleration of growth in China – is expected to curtail demand and keep rates in mature markets, as well as in China, relatively flat. Taken together, American Express Global Business Travel forecasts prices globally to increase only modestly.
"We are expecting a dynamic landscape for business travel in 2013, with prices likely rising to reflect companies' interest in doing business in growing economies such as Brazil, India, and Russia, but staying flat or even declining in those markets where growth is stagnant," said Hervé Sedky, Senior Vice President and General Manager, Global Business Partnerships & Premium Services, American Express Global Business Travel.
Here's what travel managers, business travelers and meeting professionals can expect prices in 2013:
NORTH AMERICA
Air fares
In North America, despite uncertainty resulting from the upcoming U.S. presidential election and economic discord in Europe, steady trip demand and capacity discipline is expected to drive increases in business-class air fares of 1 – 3% for both short and long-haul routes. Economy fares vary, with short-haul routes predicted to rise 2 – 4% and long-haul route pricing staying flat at -1– 2%.
Hotels
Although limited numbers of hotel rooms are expected to be added in 2013, moderate occupancy growth is nevertheless expected to drive increases of 2 – 7% in mid-range hotel rates and 4 – 9% in upper-range hotel rates. Increased competition is predicted to drive car rental rates down, although the average daily rate is expected to rise slightly due to some increases in ancillary fees.
EUROPE, MIDDLE EAST and AFRICA (EMEA)
Air fares
We predict likely low single digit fare increases across fare categories in Europe for the coming year. Growth in short haul fares across Europe is expected to be especially limited and economy fares will likely see only very low increases due to consumer cutbacks on leisure travel, which will be only somewhat counterbalanced by likely corporate downgrades from business to economy class travel.
Hotels
We expect to see hotel rates rise only slightly in EMEA in 2013, with average rates negotiated by businesses in the region likely increasing between 0.5% and 5% on average next year.
ASIA PACIFIC (APAc)
Air fares
We expect that overall fares in Asia Pacific will be flat or see slight decreases to very modest growth in 2013. We expect business class fares to be flat up to a 4% increase, while we predict that economy fares will be down by -1% to up by 4%.
Hotels
Hotel rates in APAC, like airfare, are expected to differ widely at both the country and city levels. Within China, for instance, predictions reflect the fact that prices in Shanghai suffer from an excess of supply, while in Beijing demand is beginning to outstrip supply.
For more information about 2013 travel trends, see 2013 Predictions for International Business Travel, Meetings and Events.